Can an Electric VW Camper Tackle Steep Hills?
The No 1 fear that classic camper van owners have is approaching a steep hill!
Most old VWs wouldn't even attempt a route like HardKnott Pass in the Lake District. So how would an eDub cope with this challenge? (The eDub is perused by the VW ID Buzz in this video, more on that in a future video!...)
We are answering the question today of 'Can an electric VW camper van cope with steep hills'? More specifically steep hills like a 25 or even 30% incline such as the one I was perched upon in this video. We had Solbrit the eDub featuring our now outdated e50 pack, the e60 pack is now available, the only difference is bigger capacity and bigger range. And we were up against the new VW ID Buzz. Both of these electric VWs cost the same amount, both of them could have the same power, and apparently driving the ID Buzz is a little tricky as there's a lot of traction control that keeps trying to tell you how to drive. We tackled Hardknott Pass in the Lake District so let's see how these two electric VWs got on.
I was unable to film while driving up the pass. I needed a little holder, although you would have then seen my face as we came up. It was gnarly, It's pretty intense. So you've really gotta hold your nerve coming up Hardnott Pass and you've just got to 'go for it'. There were so many parts where it felt vertical as I was just coming around a hairpin. It was pretty incredible. Drumroll… we managed to get to the top of Hardnott Pass! We stopped at a level place on the top, and then we headed down to get some more tracking shots back down the hill. I was really, really, really chuffed that we managed to get to the top with no problems.
As it turned out we needed to make a couple of little tweaks to the cooling system to make it up. In fact, the cooling system needed just the fan to turn on a little bit sooner. I then made it so that the second mode on the Drive Unit didn't have a ceiling of power on it. It was 40% it's now 100%. This is because we were hitting a problem where it wasn't anything to do with speed, it was just we needed all the power available to get us up and over the little steeper bits. It's a very difficult road to drive in general you have to kind of treat it a bit like you're an off-roader. Take those corners with a with a bit of momentum every time it kind of levels out in between the hair pins, just to get some momentum up so you can get round the corner. It was a lot of fun.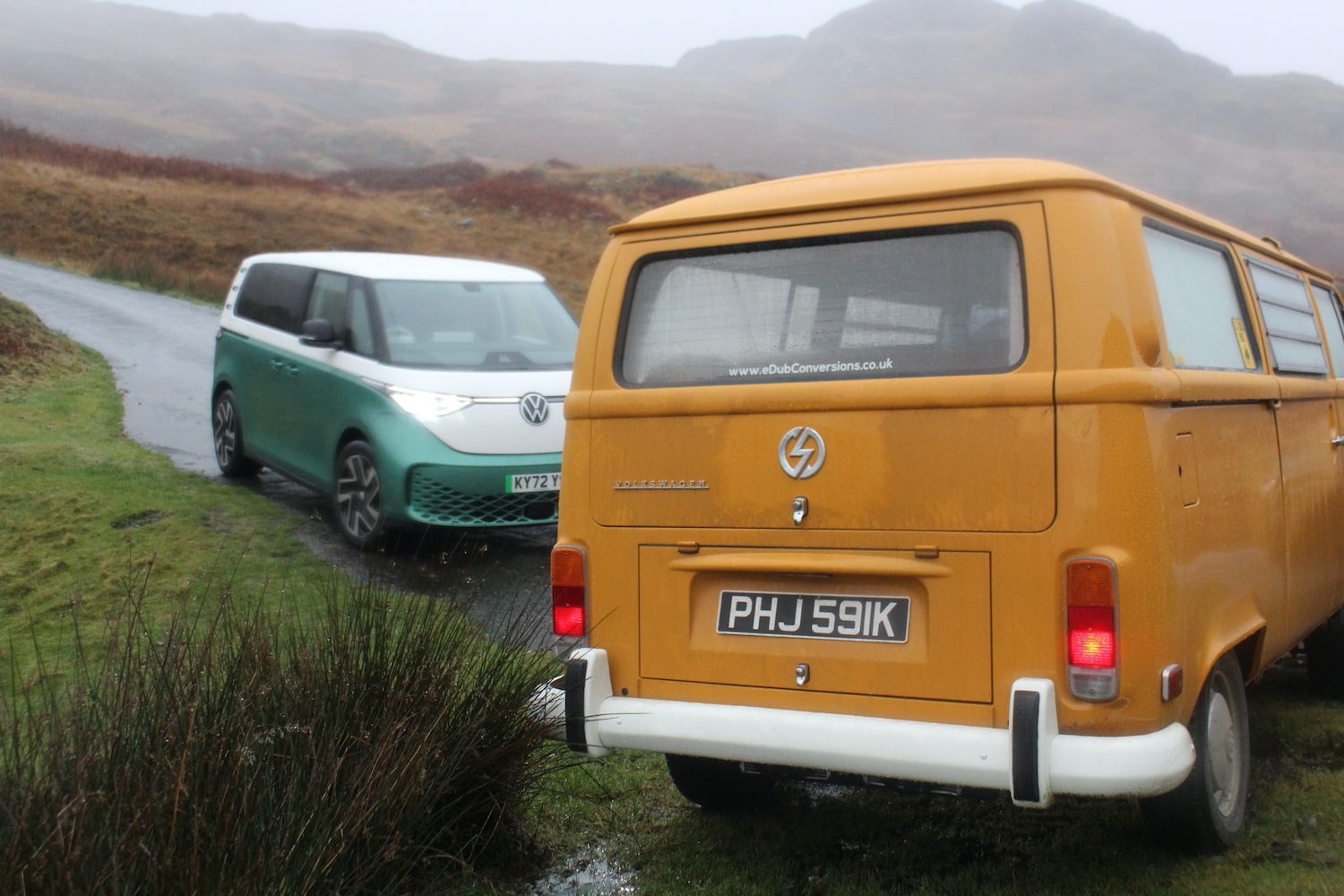 I'm very proud of the vehicle, very proud of the work that we've done at eDub and quite proud of myself to be honest with you. There was a point where I thought are we gonna have to call it off because I couldn't make it up the hill. We did one final route through and then the shooting for Top Gear magazine was complete. 
Get in touch if you're curious about how power ratios work and the kind of things that we do to our vehicles so they're powerful enough but not too powerful. That's a little bit of a run-through of how does a VW electric classic camper cope with very steep treacherous difficult roads.